Modulating protein function
using small molecules and protein design
Our lab uses a variety of techniques to probe enzyme structure and function, including molecular modeling, computational docking, X-ray crystallography and enzymology. Current research projects include:
Modulators of Transcriptional Regulators - Transcriptional regulators may either repress or promote the transcription of downstream genes. Metal dependent regulators are conserved in a variety of pathogenic bacteria and possess different metal ion specificities. Additionally, these regulators are often essential to the survival of the bacteria, making them attractive drug targets. Our goals include the determination of the three dimensional structures of metal responsive transcriptional regulators and the identification of small molecules which modulate their function.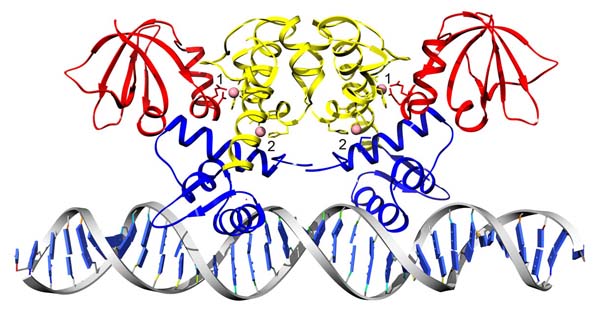 Characterization and Inhibition of Small Molecule Kinases - Small molecule kinases are used to create stores of high-energy phosphate that can rapidly regenerate ATP. Pathogenic bacteria such as Franciscella tularensis utilize an acetate kinase for this purpose. As these bacteria have the potential to be converted into bioweapons, we seek to study these enzymes and to identify inhibitors which may lead to novel treatments for weaponized strains.