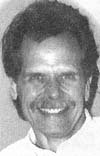 JOHNSTON - David W. was spiritually enlightened, tender hearted and compassionate, non-judgmental and wise beyond this world. He was resilient, lived what he believed, and was selflessly generous, intellectually brilliant, and perpetually sweet. These are a few of the words describing our Dave. David was born March 25, 1950 the son of Donald Warner Johnston and JoAn Dean Johnston. He died January 8, 2004 in Edmond, OK. His early years were rich with experiences on his grandparent's dairy farm, learning about animals and farming. He moved with his family to Joplin, MO at the age of 5 to start school, then when he was 8 to Tulsa, OK with his expanded family. He graduated from Tulsa's Central High School in 1968, attended OU, then UCO graduating with a degree in computer science. Survivors include: his father, Donald Johnston and stepmother Ursula, Heath, TX; mother, JoAn Hulen and stepfather, Allan, Sand Springs, OK; sisters, Vicki VanStavern, Deborah Terrill, Meredith Thompson, Cynthia Johnston; brothers Peter Hulen, Michael Hulen, Michael Johnston and Jeffrey Johnston; his beloved Jennifer Grover, several nieces, nephews, cousins and a host of loving friends. He had a longtime career designing in the field of computer driven industrial and medical technology. His laughter and love touched all he met. Visitation will be from 9:00 AM to 6:00 PM, Sunday, January 11, 2004 with the family receiving friends from 4:00 PM to 6:00 PM Sunday at Smith & Kernke, 14624 N. May Avenue. Funeral Service will be at 10:00 AM, Monday, January 12, 2004 at Smith & Kernke Chapel, 14624 N. May Avenue, Oklahoma City, OK. - Published in The Oklahoman January 11, 2004.
Dave's Visitation, Commendation, and Committal
The family received visitors from 4-6pm, Sunday, January 11. So many who knew and loved Dave attended: his extended family, people for whom he was a teacher and spiritual guide, coworkers past and present, people who were friends, neighbors and schoolmates through the years. The process of closure was helped to begin with the opportunity to view Dave's resting, peaceful countenance for the last time in this life. Artifacts, photo collages and special images of Dave filled the space, including the stunning charcoal "Out of the Depths" by Dave's Beloved, Jennifer Grover. After the visitation, the family and those who had waited with them were ushered into the crematorium to the solemn sounds of Tibetan chant. Bells were rung for a moment of meditative silence. The Commendation was led by Rev. Jenny Hulen, Dave's sister-in-law, and all responded.
Give rest, O Christ, to your servant David with your saints,
where sorrow and pain are no more, neither sighing, but life everlasting.
You only are immortal, the creator and maker of humankind; and we are mortal, formed of the earth, and to earth we shall return. For so did you ordain when you created me, saying, "You are dust, and to dust you shall return." All of us go down to the dust; yet even at the grave we make our song: Alleluia, alleluia, alleluia.
Give rest, O Christ, to your servant David with your saints, where sorrow and pain are no more, neither sighing, but life everlasting. Amen.
Those who wished were invited to step forward and help place Dave's body into the crematorium. To the sound of chanting, the enclosure containing his physical body was rolled into the chamber and the door closed. Rev. Jenny Hulen placed her hand on the door and led the Committal.
Rest eternal grant to him, O Lord;
And let light perpetual shine upon him.
May his soul, and the souls of all the departed, through the mercy of God, rest in peace.
Amen.
The meditation group Dave co-founded at the Dharma Center in Oklahoma City kindly waited to begin their regular Sunday night meeting later than usual. After the Committal, friends and loved ones gathered with the group for a time of guided meditation. Many visiting extended family members and close friends also gathered at the home of Dave's sister, Vicki VanStavern, to party, to spend valuable time together, and to remember Dave.
The morning after the committal, in the midst of all the flowers and special artifacts beneath the dais, Dave's ashes had been placed in a beautiful ginger jar and set on a pedestal. There was an easel holding a large image of Dave (right). The image and poem below were on the opening pages of the program.




Finally Home

Just think of stepping on shore and finding it heaven,

Of touching a hand and finding it God's,

Of breathing new air and finding it celestial,

Of waking up in glory and finding it home.

From Mom

PROGRAM

PRELUDE - THE MUSIC DAVE LOVED
WELCOME - REV. JENNY HULEN
EULOGY - PETER HULEN
SPECIAL MUSIC - "SWIMMING TO THE OTHER SIDE" - DARREL CLARK
EULOGY - ALLAN HULEN
POEM - "SAY I AM YOU" - RUMI - VICKI VANSTAVERN
BELLS - JENNIFER GROVER AND RALPH TUCKER
SILENCE - FOR PRAYER OR MEDITATION
CLOSING PRAYER - JOAN HULEN, DAVE'S MOM
BENEDICTION - REV. JENNY HULEN






The service program booklet contained pages of family tribute.

Friends submitted remembrances to an online guestbook provided by The Oklahoman.







Scattering Some of Dave's Ashes in India