Dr Amanda Ingram
Associate Professor of Biology
117 Hays Hall
765.361.6389
ingrama@wabash.edu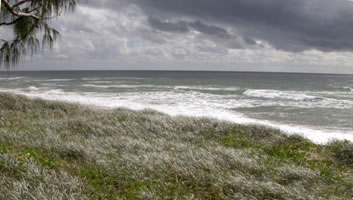 Eragrostis interrupta in Queensland, Australia
Research
Phylogenetics of Eragrostis and relatives
My primary research interest is in understanding the evolution of Eragrostis, a large genus of grasses that grow throughout the world. The lovegrasses, as they are commonly known, are interesting to me for a variety of reasons. For starters, the genus is quite large (ca. 400 species), and the relationships among these grasses are not well-understood. Knowing something about the evolutionary relationships among these grasses will help us to understand some of the interesting processes at work in the group, including polyploidy, and will also elucidate the origin and evolution of the tremendous morphological and anatomical variation known in the group. Phylogenetic work should also shed light on the relationships of the economically important species in the group, including a cereal crop (tef, a grain consumed primarily in Ethiopia) and numerous forage grasses. Some Eragrostis species are also troublesome invasives, including species such as E. lehmanniana, an African native that was introduced to the American Southwest as a forage crop but is now invading natural habitats and displacing native grasses. In addition to understanding how species of Eragrostis relate to each other, my work also attempts to address the relationships of the genus to other chloridoid grasses.
In my lab, we use a number of techniques to reconstruct the evolutionary history of Eragrostis. Most work is based on analysis of DNA sequence data, including plastid genes and low-copy nuclear genes. We also study anatomical features and the development of the inflorescences in an effort to understand how these traits have evolved.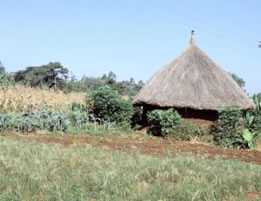 Eragrostis tef (foreground) in Ethiopia.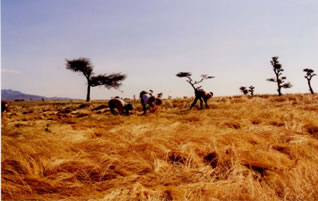 Tef harvest in Ethiopia.
Orchid Conservation
The Ingram lab is also a partner with the North American Orchid Conservation Center (NAOCC). NAOCC aims to protect and conserve all of the 210 species of orchids native to North America north of Mexico, 43 of which are known to occur in Indiana. Students working on orchid conservation in the Ingram lab will help to locate Indiana orchid populations and then will seek to characterize the conditions required for seed germination and growth. Students engaged in this work will be involved in collecting seeds, identifying the fungi upon which the plants depend (orchid seeds carry essentially no nutrient reserves and therefore require fungal associates to gain the nourishment that supports early growth and development), and working out techniques of orchid propagation in the lab.
Floristics
An ongoing project in the Ingram lab is focused on determining the species of plants that currently grow at Allee Woods, a 180-acre Parke County, Indiana nature preserve under the stewardship of Wabash College. Allee Woods contains one of the larger tracts of high-quality, old-growth deciduous forest in Indiana, and our work is aimed at discovering how the floristic composition of this area has changed in recent decades.
Another local floristic project is based at Walnut Fork Wildlife Refuge, a small nature preserve in Crawfordsville owned by NICHES, a local land trust. Lab projects include cataloguing the vascular flora of the preserve and vegetation analysis of the effects of selective tree removal in an effort to restore an oak savannah habitat.
Teaching
I teach in a variety of courses in the Biology department, including:
BIO 101—Human Biology
This non-majors' course is designed to provide an introduction to the process conducting scientific investigations in biology, with an emphasis on topics related to human physiology.
BIO 102—Plants & Human Affairs
This non-majors' course provides an introduction to the ways in which humans interact with plants and covers topics including agriculture (traditional and modern), ethnobotany, and medicinal plants.
BIO 111 & 112—General Biology I & II
This year-long two-course sequence offers an introduction to biology for potential majors or minors in the field.
BIO 224—Biology of Vascular Plants
This course provides a comparative introduction to the evolution, morphology, physiology, and breeding systems of vascular plants (ferns, gymnosperms, and flowering plants). In the laboratory, students learn to recognize a wide range of vascular plant families and also make a plant collection.
BIO 351—Evolution of Crop Plants
This course covers topics in evolution through close reading and in-class discussion of the primary literature relating to the domestication and subsequent evolution of crop plants such as maize and sunflower.
BIO 401—Senior Seminar
This senior capstone course is focused on developing students' skills in reading and presenting scientific literature. My section is typically focused on a topic in my area of expertise, such as Polyploidy and Genome Evolution.