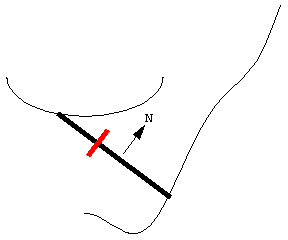 Of course the full truth is more complicated, but only slightly more. If the motion of the planimeter is very small, then it is more plausible that the small oriented area swept out is the sum of the areas due to a small translation and a small rotation. We have

dA = l ds - 1/2 l l 2 dq,

where dA, ds, and dq denote the small area, the small amount the wheel rolls, and the small angle of rotation of the planimeter. If we consider the full motion of the planimeter as being broken up into very small movements, then the formula above holds for each of the small movements. Adding them up yields

A = l s - 1/2 l l 2 Dq

for the total oriented area swept out.